Men's Dress Shirt Style Guide - What to Look for When Buying a Dress Shirt
Choosing a men's dress shirt can turn out to be a tricky affair.
Some may assume that as long as it fits you comfortably, that's it. However, there's more that goes into looking sharp, sophisticated, and feeling confident.
Buying a new shirt doesn't start in the store; it starts in your head. Do you need the shirt for work? A date night? Or perhaps a buddy's wedding? It helps to know a few tips about buying and wearing dress shirts. This guide will help you get in touch with the basics of choosing the perfect dress shirt for all occasions.
Before we get started on the ultimate guide to dress shirts in 2022, here are some of the dress shirt tailoring styles you need to know in 2022.
4 Best Dress Shirt Fits for 2022 and Beyond:

1. FAIRBANKS TUXEDO SHIRT

If you have a black-tie event, then you'll need a high-quality evening shirt to compliment your tuxedo. If you are a guest attending a black-tie event, you can't go wrong with The Fairbanks Tuxedo Shirt. Crafted from the finest cotton and perfected with precise pleats, the stunning Fairbanks Tuxedo Shirt will ensure you look perfectly polished for a black-tie event.
When contrasted to their winter-friendly compatriots, summer shirts should be lighter, cut from more porous fabrics, and styled in pale, sun-reflecting shades to reflect the warmer climes. Bryant Draper's tan linen button-down, The Jackson Tan Shirt, is an excellent example of this. Both luxurious and super breathable, this eye-catching and versatile garment will make it to the top of your summer favorites in no time.
Do you want to look seamlessly put together, whether you are going about your daily routine or relaxing on holiday in the tropics? A cream-woven cotton shirt, such as the Inherent's Cream Signature Shirt, would be a wise choice for either occasion.
Without further ado, let's get started on the different styles of men's dress shirts, ranging from the collar, front style, back style, buttons, cuffs, and pockets.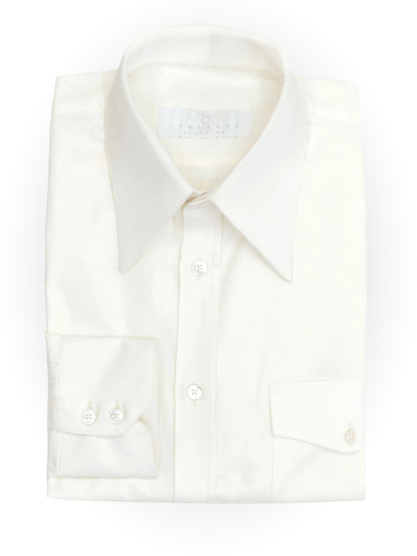 4. STRIPE CLUB COLLAR SHIRT

As seen in The Fitzgerald Contrasting Club Collar Shirt, stripes are a favorite among wearers of the Winchester style. Striped shirt styles persist to this day, and you'll never go wrong with the blue and white striped design. We would suggest wearing this shirt with pleated dress pants and monk strap shoes for a sartorial conclusion.
How Dress Shirts Are Measured: All Details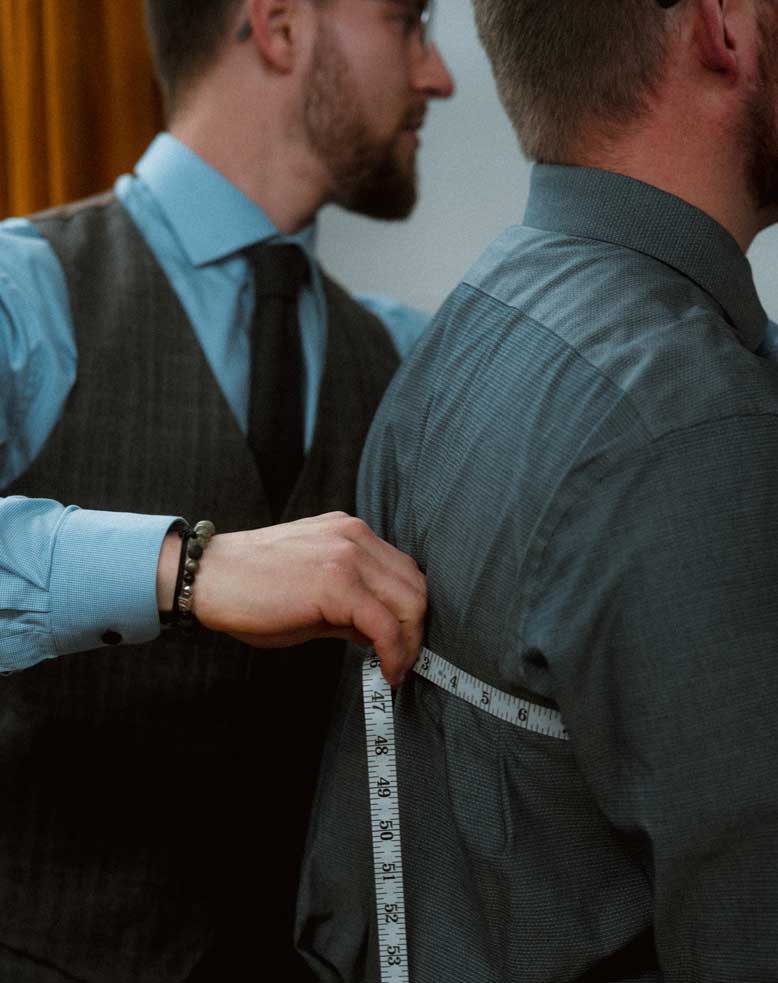 Four Important
Measurements

Dress shirts rely on four measurements to look tailored and professional, the neck, sleeve, chest, and waist measurements.
Neck:
To get an accurate neck measurement, you also need to factor in comfort. Slide in a finger or two between your neck and the tape for some breathing space when you button up.
Sleeve:
To get the right dress shirt sleeve for your arms, you'll need to take two separate measurements. First, measure from the nape of your neck to your shoulder seam, then from the shoulder seam to your wrist.
Chest:
To get a chest measurement, wrap the tape measure around the widest part of your chest and backside, just under your arms, above your nipples. Remember to take a breath while measuring to allow for a comfortable and non-constricting fit.
Waist:
While your waistline is the narrowest part of your waist, you'll want to measure about one inch below your belly button for the most accurate measurement. Stand naturally, and remember to slip one finger between your body and the measuring tape.
Different
Types of Collars

The collar's purpose is to frame the face and draw the observers' eyes to yours. Choosing the correct shirt collar will allow you to enhance your facial strengths while overshadowing any irregularities.
These are the collar types that each gentleman should know how to work:
Straight Collar:
Also known as the point collar, this is the most common collar style. It is the most versatile, easy-to-wear style, and you can wear it for many occasions ranging from dates to weddings and business functions.
Spread Collar:
Unlike the straight collar, the points spread wide – thus the name. These collars vary in widths and are generally very versatile. They pair effortlessly with a jacket and tie but can also go on their own.
The Button-Down Collar:
As the name suggests, the button-down collar is usually secured to the shirt by small buttons on both points resulting in a sporty, stylish, and practical look. While often paired with suits and ties, this is the least dressy collar type.
The Wingtip Collar:
In contrast to the button-down collar, the wingtip is the most formal collar option. The sole purpose of the wingtip collar is to pair with a bow tie and tuxedo.
The Mandarin Collar:
Also known as a standing collar or a band collar, the Mandarin collar is a short, close-fitting, stand-up collar style that offers an unconventional yet dapper alternative to more common dress shirt styles.
The Mandarin collar looks outstanding, especially when worn with a blazer.
Dress shirts come in loads of different materials and blends which all only fit in one of these three major material categories:
100% Cotton:
100% cotton is popular since it is the most breathable, durable, and comfortable of the three. While pure cotton is generally better, it wrinkles easily, which is why many turn to cotton weaves.
100% Cotton/Polyester Blends:
Many clothiers use cotton/polyester blends for dress shirts since polyester is less expensive than cotton, and cotton/polyester shirts are wrinkle-free and provide good warmth. However, polyester is less breathable and less comfortable. To be on the safe side, ensure that you only buy blends with 80% or more cotton.
Silk:
Silk is no doubt one of the most robust and most breathable natural fabrics in existence. At the same time, silk is much more expensive and delicate—a small price to pay for the sleek shine and indulgent history.
Shirt Front:
Pockets or No Pockets?

Most men's shirts feature a single pocket on the left breast.
While rarely used, a shirt with a pocket is more practical, especially in the summer when it is less likely to wear a jacket and tie at work. On the other hand, people have always considered a dress shirt with no pocket to be more formal.
Essentially, as long as you're not going to a black-tie event, you'll be safe with a pocket dress shirt.
Dress shirts usually come with several options for the front placket.
Front Placket:
The front placket is the most common type of shirt placket. The placket fabric is folded back outside and sewn to the rest, resulting in a formal, business-like appearance.
No Placket (French Front):
Commonly known as the French Front, this sophisticated placket creates a clean one-piece fabric appearance as the placket is folded back and sewn from the inside. No plackets are common on both business and casual shirts.
Covered Placket:
Also known as the fly front, the covered placket features an additional fabric to cover the buttons below it. It is a very formal placket style, often associated with tuxedo events.
Tuxedo Front (Plain):
The Tuxedo Front is similar to the French front placket, but there's one key difference- the top four buttons are interchangeable with tuxedo studs.
Pleated Tuxedo Front:
The pleated Tuxedo front is similar to the plain tuxedo front, but it features small fabric folds on the shirt front.
Shirt Cuff Styles:
Cufflinks or Buttons

We use cufflinks to fasten shirt cuffs closed. They are an alternative to buttons, which stay sewn onto shirt cuffs. Neither is considered more formal than the other, so, it comes down to preference.
While buttons are a touch of modern convenience, cufflinks add a level of aesthetic brilliance to your outfit.
The Shirt Hem:
The shirt hem is essentially the bottom end of the shirt.
Rounded Hem:
The rounded hem features a 2" rise on each side of the shirt to give the front and back shirttails a subtle rounded shape. This type of hem is popular on business and business casual shirts.
Straight Hem:
As its name suggests, the straight hem is cut straight across the bottom of the shirt and features a 2.5" vent on both side seams. The straight hem is a common choice for casual wear and is especially ideal for untucked shirts.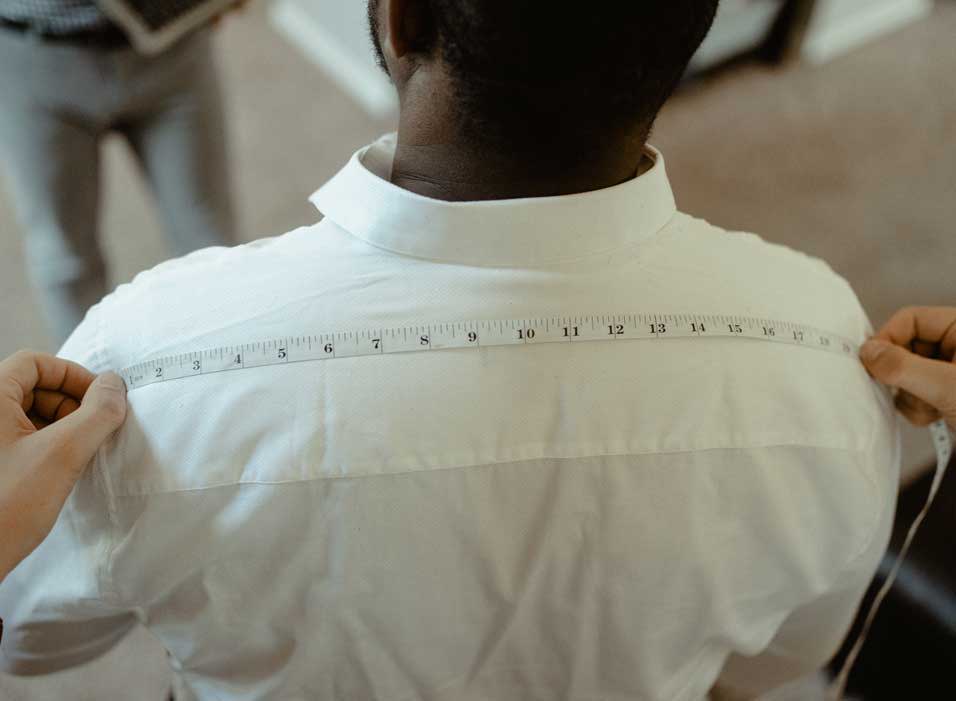 Men's dress shirts generally feature one of three pleat options: no pleats, rear side pleats, or center box pleats.
No pleats are great if you are after a clean, minimal look.
Rear side pleats are functional as they help increase your range of motion when reaching forward.
The center box pleat is a more casual option often seen in super slim-fitting dress shirts.
Contrasting
Shirt Elements

To embellish your dress shirt and make it even more personalized, you can opt for contrasting colored inserts for the collar, collar band, cuffs, or placket.
The contrast reverse cuff and inside collar band is a common sight in Italian dress shirts. Apart from adding a distinctive touch of fashion to the dress shirt, it also serves a purpose. Shifting from formal to a more casual look is as easy as unbuttoning the shirt and turning up the cuffs on the sleeves.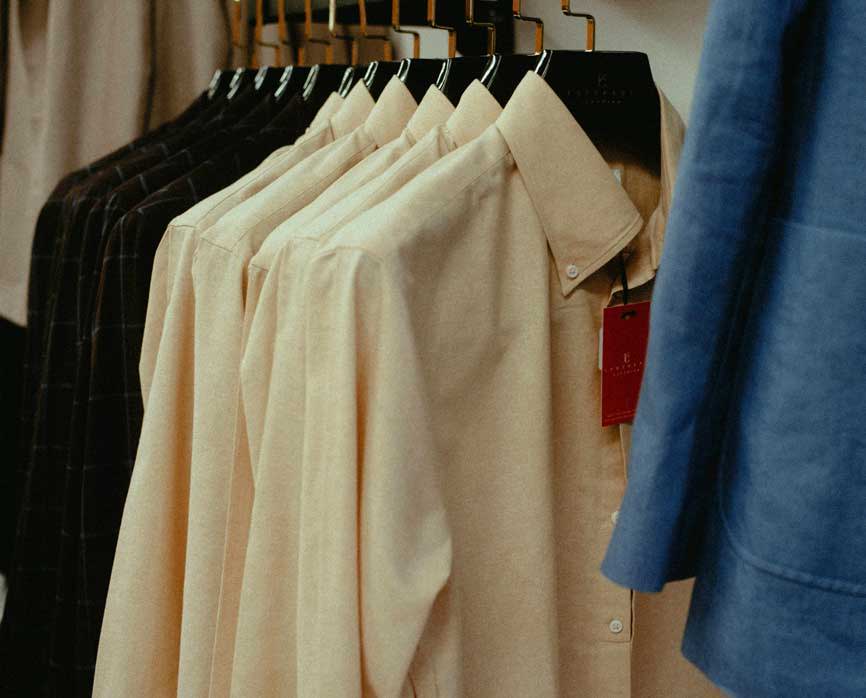 What color dress shirts should every man have?

A solid white dress shirt is an absolute must-have in every man's arsenal.
When you're just getting started, your essential color palette should revolve around whites and blues. Later, you can slowly venture into pastel colors such as cream, beige, and soft pink.
How many dress shirts does a man need?

A shirt for every day of the workweek is enough. So, if you go to work five days a week, you'll need to own at least five dress shirts. It is good practice, however, to double the number of shirts you need in a week.
What is the most attractive shirt color for men?

According to women, red, blue, and black are the shirt colors that men look best on. Surprisingly, many women choose whatever matches a man's eyes. Have gray eyes? A gray shirt could be perfect for you.